ALL GARDENS ARE OPEN 10:00-4:00 Rain or Shine
See HOME page for weekly photos and detailed description
Admission is $5 at each garden on tour day. You can buy a season pass for all nine gardens for $30 at Left Bank Books in Belfast.
Proceeds from this fundraiser support Belfast Garden Club programs and activities including the maintenance of 12 public gardens in Belfast and scholarships for Waldo County students studying horticulture and related subjects.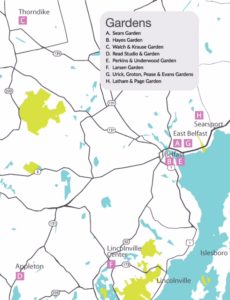 June 16: Sears Garden at 9 Airmail Lane in East Belfast - open until 5:30 p.m.
Learn how great design can provide four seasons of interest in a garden that has matured gracefully over 25 years. Asian-inspired garden designed by author and designer Lee Schneller is set against a backdrop of Penobscot Bay with views to Islesboro. Enjoy brilliant Lilac, Lupines, and Rhododendrons among towering pines and a rock garden, then return in late August to view a totally different garden.
Directions: High Street north to Route 1. North across the Passy Bridge. Continue north. Look for mailboxes high up on poles on the right (Air Mail, Bills). Turn right and continue to the end. Park in the oval driveway.
June 23: Hayes Garden at 35 Church Street in Belfast

Formal perennial beds complement the brick Greek Revival home built in 1846 to which a conservatory was later added. Of particular interest are Day Lilies, in all colors, David Austin roses, large and varied Hostas, Climbing Hydrangea, Delphinium, Clematis, and several varieties of Lingularia. A rose arbor creates an entrance to the shade garden behind the house.
Directions: From Main and Church Streets, north to #35.
June 30: Walch and Krause Garden at Fire Flower Farm and Pottery at 33 Knox Station Road in Thorndike
Discover where the MOFGA certified organic flower bouquets at the Belfast Farmer's Market are created. This small farm, large perennial garden and Barbara Walch's open pottery studio will be a delight to the senses. The flowers will be at their peak bloom, and there are herbs, fruit trees, and vegetable gardens woven around the property in a true permaculture form. The living woven wllow fence is not only a design element, but representative of the owner's woven willow baskets.
Directions: Main Street west. Right on Waldo Avenue North and Route 137 (Waterville Road) to Route 7 to Brooks. Left on Route 139, 6 miles to Knox Station Road. Signage opposite the garden.
July 7: No Open Garden
July 14: Read Studio and Garden at 64 Appleton Ridge Road in Appleton
Artist Abbie Read's studio is surrounded by ornamental display gardens that she created for her
former garden design business, ARTgarden. A variety of Hostas are the anchors for several large flower beds featuring such unusual shade plants as Astilboides tabularis and Lingularia japonica "Chinese Dragon." A fenced kitchen garden is bordered by espaliered apple trees. Goat manure from Read's sister's Capercaillie Farm, home to Appleton Creamery, provides nutrients and mulch for the gardens.
Directions: West on Main Street to Route 3 to Route 131 South through Searsmont to Appleton Ridge Road. Drive 7.3 miles on Appleton Ridge to #64 on the right.
July 21: Perkins and Underwood Garden at 133 Miller Street in Belfast
Distinctive for its trellised, rose-covered enclosures, curving paths, shrubs, and stone walls, this
half acre garden features climbing grape vines and numerous summer blooming flowers including peonies, catmint, and hawthorn as well as late-blooming lilacs, iris, and clematis. This garden now featuring a larger vegetable garden, was previously the Bland Banwell garden featured on the 2012 tour.
Directions: From the intersection of Main Street and Church Street go north on Church Street to Miller. Right on Miller. Follow to #133 on the right. Street parking.
July 28: Larsen Garden at 17 Tuva Trail in Lincolnville Center
This arboretum-like setting features woodland plants tucked under specimen trees including a
Japanese Stewartia . The sloping site also includes Viburnums, Dogwoods, and Pieris, Rhododendrons, Japanese maples, conifers, and smoke bushes accented by rock formations leading down to the pond. You are invited to linger on the dock to enjoy complimentary lemonade. Baked goods may be purchased from the owner's onsite wholesale Tuva Bakery. Some steep terrain.
Directions: Main Street to Lincolnville Avenue. Left on Lincolnville. Cross Route 1 following Route 52 to Lincolnville Center. Left, then immediate right onto Route 235 (Hope Road). Two miles to Tuva Trail on the right.
August 4: Urick, Gorton, Pease and Evans Gardens at 41, 44, and 52 Robbins Road in East Belfast
Come and enjoy our first trio of garden gems on the upper east side of the Passy River. By adding structure and color, these neighbors have created animated gardens that will distract you from the peaceful river views. Each garden is alive with whimsy, and in their own unique way, a testament to how to conquer gardening on a hillside. Difficult terrain at one garden.
Directions: High Street north to Route 1 North across Passy Bridge. Take first left at blinking light onto Route 141. First left onto Robbins Road. Keep left at fork.
August 11: Latham and Page Garden at 501 Mt. Ephraim in Searsport
You will find yourself magically transported to Europe when you enter this classically inspired garden-in-progress. Created from the ground up, the garden features imported statues paired with Maine fieldstone raised beds. The garden represents a wonderful collaboration between the landscaper husband and gardener wife. The couple was married on the garden guarded by twin lions. As an added bonus, enjoy a different experience, just a five-minute walk through the woods, where the owner dug a one acre pond complete with an island. All this on a blueberry farm, which will have berry baskets available for sale. Moderate terrain.
Directions: Route 1 North to Searsport. Left on Mt. Ephraim just before Tozier's Grocery. After 4.2 miles, farm on the right.
August 18: Sears Garden at 9 Airmail Lane in East Belfast - open until 5:30 p.m.
Return to the tour's first garden to see a riot of color highlighted by a rainbow of Echinacea and Phlox. Columbine and Astilbe brighten the part-shady areas while Delphinium and turtlehead are the bright lights in the sunny gardens. A few different Clematis wrap the house in a big hug.
Directions: See June 16.