The finale in Belfast's Open Garden Days on Friday, August 18, features a reboot of gardens gracing a tip of land with sweeping bay views. Open hours at Vicky Sears' 9 Airmail Lane property in East Belfast have been extended from 10 a.m.-5:30 p.m. to make it easier for everyone to visit and see how these gardens have transformed over the summer.
The waterfront property features a cottage nestled into gently rounded berms containing a mature Asian-style garden. The strong structure of its classic elements—delicate Japanese maples, creeping cedars and carefully pruned mugo pines—has been softened with blowsy growth.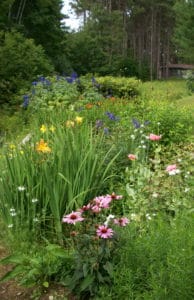 Elsewhere on the two and a half acres, new blooms draw the eye to areas that might have gone unnoticed in spring—pale yellow and jersey orange daylilies and white gooseneck loosestrife add sparkle to a wood's edge on one side of the house. Large-leafed blooming raspberry bushes fill out a border.
On the other side, Vicky's rock garden has come to life with vibrant yellow coreopsis, pink astilbe, and blue-and-white "Love in a Mist" nigella. A hydrangea paniculata adds height, and its cool white blooms offset the garden's bright colors.
The winding pathway to the water is bordered by thickly growing hostas. Phlox adds delicate pinks. Thyme creates a thick blanket of purple in one bed. Meanwhile, Vicky has decorated her long deck with pots of blossoms bursting with peaches, purples, pinks and whites that add even more vibrancy to the landscape.
A $5 donation is requested at the garden. The Belfast Garden Club will use proceeds from Open Garden Days 2017 to fund scholarships, maintain public gardens in downtown Belfast, and offer a full schedule of free daytime and evening programs that help inspire people's love of gardening and their desire to protect and preserve our native flora and fauna.
Directions: To get to the Sears garden, take Route 1 north across the Passy bridge. Continue heading north and look for a row of mailboxes with two that are raised above the rest for "Bills" and "Airmail." There is limited parking at the garden. Visitors who are able are asked to park well off the road on the Airmail Lane side of Route 1 and walk down the driveway. For your own safety, please avoid walking across the highway, which is thick with traffic at this time of year.
For more information, call club member Marje Stickler at 338-5059.